Sony MZ-G750
introduced february 2001
- Portable minidisc recorder with tuner in the remote -
- can record up to 5h 23 m on one disc by using MDLP -
A fantastic gadget....
Reviewed by Peter Ravn,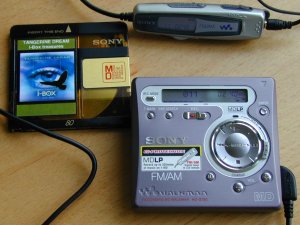 (Click on the pictures to get them enlarged)

.
---
Update August 20, 2004: I have just got me a new toy - so read about my first impressions of a NHF800....

Update January 6, 2004: Sony introduces Hi-MD 1 Gb's which holds 7 hours and 55 minutes in HI-SP mode. Also several portables introduced including the MZ-NHF800 with tuner.

Update January 24, 2003: Sony will release 2 new MD tunerportables this spring both with NetMD! It is the MZ-NF610 (short review on minidisc-t discussion forum) and the MZ-NF810.

Update December 2, 2002: This hack to add some MZ-R900 features on a MZ-R700 also works on the G750! You should be able to add:
More play modes the ones G750 have plus 1 track, program play, program play repeat and shuffle

Personal Disc Memory (remembers volume, program play, equalizer, and speed settings for 20 discs)

Melody Timer (an alarm clock settable in minutes -- so you don't miss your train stop)

Auto time mark (inserts a track mark every 5, 10, or 15 minutes during recording)

Select between headphone and line-out audio output (the line-out removes sound 1 or sound 2 and beeps)
Titling in Japanese Kana character set (as well as the normal Roman alphabet)

[Selectable stored equalizer settings (sound 1, sound 2) with treble and bass settings (more sophisticated than simple bass boost)

Adjustable playback speed (from -80% to +110%) - these features requires an R900 remote]
My notes:
Everything except Personal Disc Memory works on my G750 [it works but the Personal Disc Memory is quickly erased again....]. When programming tracks I use Enter, FF and REW as the G750 don't have a Jog Lever as the R900 does. The japanese Kana characters show up when titling, but by pressing the pause key can you toggle between the character sets and numbers.
Consider carefully if you want to add these features because there is always a risk of doing hacking! It might therefore be a good idea to follow the discussion about the hack.
Now also published: How to restore default settings on Sony MZ-Rxx series MD recorders - in case the test mode made your unit defective.
Update June 10, 2002: The unit is now replaced by the Sony MZ-G755, - sadly does it not look like that there are major improvements and the new unit will not have NetMD! Places to buy the unit: My-minidisc (Germany), Techtronic (UK) and AV-Land (UK).
Besides the G755 look and feels a lot more plastique and cheepish - stick to the G750 if you can!
If you have real life experiences with the G755 then email you impressions to me....[see my email address on the top]
---
Now the review....:
A friend of me (Niels Ebbe Dam, thanks!) was in London after walking down Tottenham Court Road and asked for the unit in six stores he finally got it for me. Price £ 200.
Below will you find my observations. I got the unit tuesday 20. february 2001, therefore the text I write is based on a very long use. But my mother tongue is danish not english suo yore arre hwarnedz nhow! :-) :-)
I often listen to radio and MD, but it is frustrating to carry 2 units for that. Therefor this unit saved my day.
It is driven by 1 AA battery - you can use normal, alkaline, Ni-Cd or Ni-MH (Sony only mentions Ni-Cd in the manual but it works anyway).
You get:
Main unit
Remote with built in radio (FM/AM)
Headphones
Optical cable
3V adapter (power supply)
1 AA Ni-Cd battery
Carry bag with belt clip
Manual
---
Main Unit
Buttons:
Rec Mode: selects the recording mode: SP, SP mono, LP2 or LP4
T. Mark: Add or erase a track mark
End search: Find the end of the recorded material
Rec: Begins recording/recording standby
Stop: Stops playing/recording / charge battery
Enter: Enter the menu/selects menu options
I<< / >>I : Fast rewind/forward and scrolls through the menu
Play: Starts playing
Pause: Pause playing/recording
Volume -/+: Volume
Hold: Lock the buttons
Open: Open button (placed on the left side near the Rec mode button)
Display:
The display can show the following information (not everything at the same time): Track/disc name, tracknumber, time, bass, recording mode, play mode, battery indication, level meter, synchro-recording indication, volume, disc indication
Inputs:
Line in/optical in
Mic in
Outputs:
Headphone(5 mW + 5 mW, load impedance 16 Ohm)/remote/line out
It plays louds enough for me. But I only use plug-in earphones...
Dimensions: 81*28.1*74.4 mm (w/h/d). Mass: 118 g (without battery). The unit has a bulge where the battery is placed (like the Sony MZ-R70).
---
The Remote
First: It is not possible to record from the radio, because the MD turns off when you start the radio. Which is nice for me, because then it is easy to shift from MD to radio. Shift from radio requires to stop the radio and start playing the MD.
The radio can handle 30 FM presets and 10 AM presets. FM is from 87.5 to 108.0 MHz (76.0-90.0 MHz in the japanese model). AM is from 531-1602 KHz (530-1710 KHz in the american model and 531-1710 KHz in the japanese model).
WARNING: The european model (as this one) cannot change the frequency settings to suit an other geographical region! Therefore you may get trouble if you import the european model into the USA or Japan.
The remote has a built in AM antenna and the headphone cord act as a FM antenna.
On the train journeys have I experienced reception as good as my old Philips radio. So I am satisfied with the soundquality in the radio (so far).
The remote does not work with the older models MZ-R3, MZ-R37 and MZ-R70 - on the MZ-R900 it can control MD play, but the tuner does not work!
Buttons:
Stop: Stop MD playing/turns radio off
Volume -/+: adjust volume on MD and radio (volumes can be different on MD and radio)
Hold: Lock the buttons
Radio on/band: Turns on radio and selects FM or AM, press down to select MONO or LOCAL when reception is bad.
Jog Lever (F-/F+): Play/pause/rewind/forward on MD, frequency/preset selection on radio
Display:
Radio : Preset number, frequency, volume
MD: Track number, lap time, volume, battery indication, play mode, bass mode
---
Playing, recording, battery life etc.
The unit has MDLP meaning that you can record up to 5h. 23 min and 55 sec. on a 80 min. disc if you select LP4 record mode. LP2 gives you double play/record time and it sounds very good. On LP4 the soundquality is better than expected but there is less "air" and the stereo separation is like FM. So LP2 is good for serious listening while LP4 is better for interview etc. and for making long compilations for background playing.
End search can be shut off via the menu under the "REC-Posi" option - set it to "From End" instead of "From Here" - do it as one of the first things you do!!!
The manual setting of the recording level can only be set during recording pause not while recording- Sorry (!) - No Sony model can do that but Sharp and Aiwa models can...But you can change the level on analog and digital recordings.
When adjusting recording level manually (recommended) is there on the unit symbols for -12dB and "Over".
If you use the headphones connected throgh the remote it will beep when you hit a button, but it is possible to turn the beep off.
Synchro recording can via the menu can only be done when you make recordings from digital sources.
Nearly everything on the unit is done via the menu which I find a little irratating some times. The following options are available through the menu:

EDIT: edit disc/tracks, naming, move, erase
DISPLAY: select between lap time, 1 remaining time or all remaining time
PLAY MODE: select between normal, all repeat, 1 repeat or shuffle repeat
REC-Posi: selects between "From Here" and "From End" (strongly recommended to select From End so that recording always begins at the blank area)
SYNC REC: Synchro-recording from digital sources
RecVolume: Selects between automatic recording level or manually setting
BASS: selects between: none, bass 1 or bass 2 (strongest)
AVLS: on/off (Automatic Volume Limiter System - to keep headphone level down)
BEEP: on/off
Everytime you shift disc the display mode returns to lap time even though you have selected one of the other two display modes. This annoys me...
Play modes normally change when you shift discs - back to normal play - unless the unit shut off power automatically. Bass, Beep, REC-Posi and AVLS are permanent and can only be changed through the menu.
When you use the shuffle repeat mode it makes smooth transition without pauses from track to track. That's good, - Sony decks and Sharp portables normally adds some time gap between tracks. The shuffle repeat track order is always the same on the same disc. So if you have heard one disc with shuffle then next time you insert the disc and hear it with shuffle the track order will be the same. I have tried with a disc with 58 tracks the order was always 1, 3, 7, 15, 31, 42, 41, 38, 25... and even if I first hear track 3 then the order will be the same so the next tracks will be 7, 15, 31, etc :-)....
When you select Fast Forward (or Rewind) the unit fast starts playing. But if you press FF or Rewind to cue then it takes 2-4 seconds before the cueing starts.
The unit is very quiet when playing, you only hear when it starts up to fill the buffer. It emits some more noise when recording and the noise is constant when you use it with the AC adapter power supply. When recording with a battery it is much quiter - behaviour much like playing - only makes noise when it writes to the disk. E.g when recording on LP4 it is quiet for more than 2 minutes then it write on the disk for about 5 seconds and so on.
Battery life:
[Taken from the manual.]
When recording:
| | | | |
| --- | --- | --- | --- |
| Batteries | SP | LP2 | LP4 |
| NC-WMAA Nickel Cadmium | 4h | 6h | 7.5h |
| LR6 (SG) Sony Alkaline | 9h | 13h | 16h |
When playing:
| | | | |
| --- | --- | --- | --- |
| Batteries | SP | LP2 | LP4 |
| NC-WMAA Nickel Cadmium | 11.5h | 14h | 16h |
| LR6 (SG) Sony Alkaline | 36h | 42h | 48h |
When using the radio:
| | |
| --- | --- |
| Batteries | Approx hours |
| NC-WMAA Nickel Cadmium | 9.5 |
| LR6 (SG) Sony Alkaline | 28.5 |
The battery works only on the MD section when its about half full then it can't drive the tuner anymore. It's because the tuner requires more power than the MD! This applies with a Ni-MH battery. When I tried with a alkaline battery the radio stayed on for a longer time.
On Sep 10, 2002 I have to buy a new unit since it was defect after getting to much water inside :-( ... in the new unit the tuner stays on for much longer :-). Sony must have upgraded the battery management since my first buy.
---
Pros and contras
Pro:
Built in radio
MDLP
Small
Long battery life
Operates with a single AA (LR6) size battery
Good sound
Contra:
It is not possible to record from the tuner
Too menudriven
Recording level can only be set during pause
No backlit in main unit and remote
No date/time stamp
ALL IN ALL: I strongly recommend this product.
---
Manual (4.2 MB PDF) (Kindly scanned by N. Tang)
---
Where can I buy the unit ? Try these links -
EU:
Techtronics - Mistersuper

UK citizen only - :
http://www.unbeatable.co.uk/ - http://www.askdirect.co.uk - http://www.avland.co.uk - http://www.argos.co.uk - http://www.dixons.co.uk/ - http://www.comet.co.uk

USA:
Minidisco

The G750 has 2 sisters: MZ-R700 (without radio) and the MZ-R500 (without radio, remote, microphone input and maybe power supply)
Back to Peter Ravn,s MD site. The review on a Korean page...
---
Photos by Niels Ebbe Dam (with a Nikon Coolpix 950).
Last edited by Peter Ravn.
FastCounter by bCentral